iPod Touch recording with Voxie has its advantages.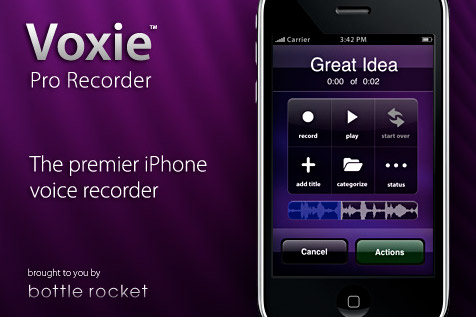 You guys are using your iPod Touch microphones in all kinds of imaginative ways. From guerilla journalists conducting recorded interviews in the field, to grade school girls recording their singing rehearsals, to academics recording lectures, the list goes on! We even had a gentleman inquire about using our mic as a hearing aid  (don't ask, that interesting story is for another blog post!).
In any case, we are often asked to recommend a good voice recording app. Well after testing the top two apps available on the app store for recording – "iTalk Recorder Premium" and "Voxie" – we think that Voxie takes the cake!
Why we chose Voxie
Both apps have nice features too long to list here, so we want to cut to the chase and tell you the 4 reasons why we think Voxie stands out :
Quality – In our testing the Voxie recording had less background noise and better pickup than the iTalk app.
User Interface – Both apps look great, but Voxie's takes the cake by using the familiar and effective iPhone style interface along with a beautiful choice of skins.
Features – Voxie is the only recording app you should ever need.
Price – At $1.99 it comes in $3 cheaper than iTalk Recorder Premium.
We recently featured Voxie in a video with our TouchMic Lapel Mic:
Relevant Links: