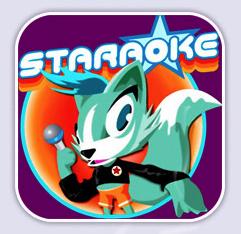 Every now and then a really cool mic-enabled app comes along that we feel we people should know about. In this case the app is called Staraoke, and if you are a parent of a child who loves to sing (or would like to start) then Staraoke should be on your list of downloads for your iPhone or iPad.
Staraoke is a unique and non-violent iPhone/iPad-game that combines three things kids love: singing, games and friends! Staraoke was originally a Karaoke PC game that became a hit television show. It is available now in both iPhone and iPad versions.
Initially Staraoke comes pre-loaded with 3 traditional German kids songs: Itsy Bitsy Spider, Brother John and Old MacDonald. (More songs will come soon in future free upgrades.)
Targeted at elementary school age children Staraoke lets children control a cartoon character on their screen by singing along to various songs. The software recognizes the singer's pitch and keeps the character on the path unless you sing off key. Children will quickly develop their singing ability to win as many points as possible. "Children love computer games and singing. Staraoke combines these things and you can even learn to sing with the game, says Antti Seppänen, CEO of Intervisio.
Check out the gameplay:
Special treat  for owners of  "Staraoke" from TouchMic.com!
Within the app there is also a special treat from TouchMic.com. To download the app and find out more you can purchase the app from iTunes at the below links:
For iPhone Users:
For iPad Users: